Creating a Trip Dimension ​
Each individual trip will be entered on a separate row in the data entry screen. These "Trips" need to be added as a dimension in MODLR.
We will create a dimension named Trip and leave the dimension type as Standard.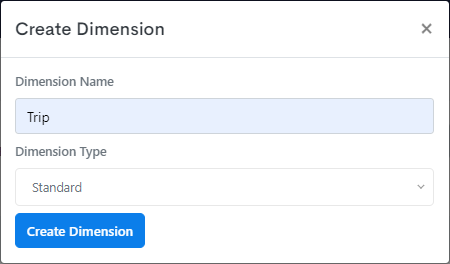 Click into the Trip Dimension, enter the following values and hit Save Changes.
js
All Trips




    

01




    

02




    

03




    

04




    

05




    

06




    

07




    

08




    

09




    

10




    

11




    

12




    

13




    

14




    

15
All Trips




    

01




    

02




    

03




    

04




    

05




    

06




    

07




    

08




    

09




    

10




    

11




    

12




    

13




    

14




    

15