Creating Product Dimension ​
To begin let's create the dimension called Product and choosing the dimension type as Standard.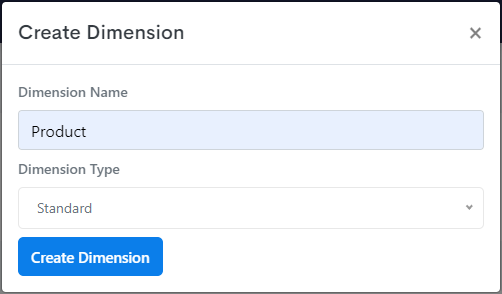 In this dimension we will add two hierarchies, one that lists totals by Brand (Default) and another which is a simple list of Products (All Products). You can copy paste the hierarchies from the Dimensional Data file downloaded earlier.
The Default Dimension with totals by brand:
All Products by Brand




	Stationmaster




		Pencil




		Binders




		Paper




		Pen




		Pen Set




	Coolers Complete




		Cooler Cups




		Cooler Cups (Recyclable)




		Cooler 4 Litre Bottle




		Cooler 6 Litre Bottle




		Cooler 8 Litre Bottle




		Cooler Base Station XL2




		Cooler Base Station XL3




	Coffee Pro




		Coffee Filter Machine




		Coffee Capsule Machine




		Ground Coffee 500mg




		Ground Coffee 1kg




		Ground Coffee 2kg




		Ground Coffee 4kg
All Products by Brand




	Stationmaster




		Pencil




		Binders




		Paper




		Pen




		Pen Set




	Coolers Complete




		Cooler Cups




		Cooler Cups (Recyclable)




		Cooler 4 Litre Bottle




		Cooler 6 Litre Bottle




		Cooler 8 Litre Bottle




		Cooler Base Station XL2




		Cooler Base Station XL3




	Coffee Pro




		Coffee Filter Machine




		Coffee Capsule Machine




		Ground Coffee 500mg




		Ground Coffee 1kg




		Ground Coffee 2kg




		Ground Coffee 4kg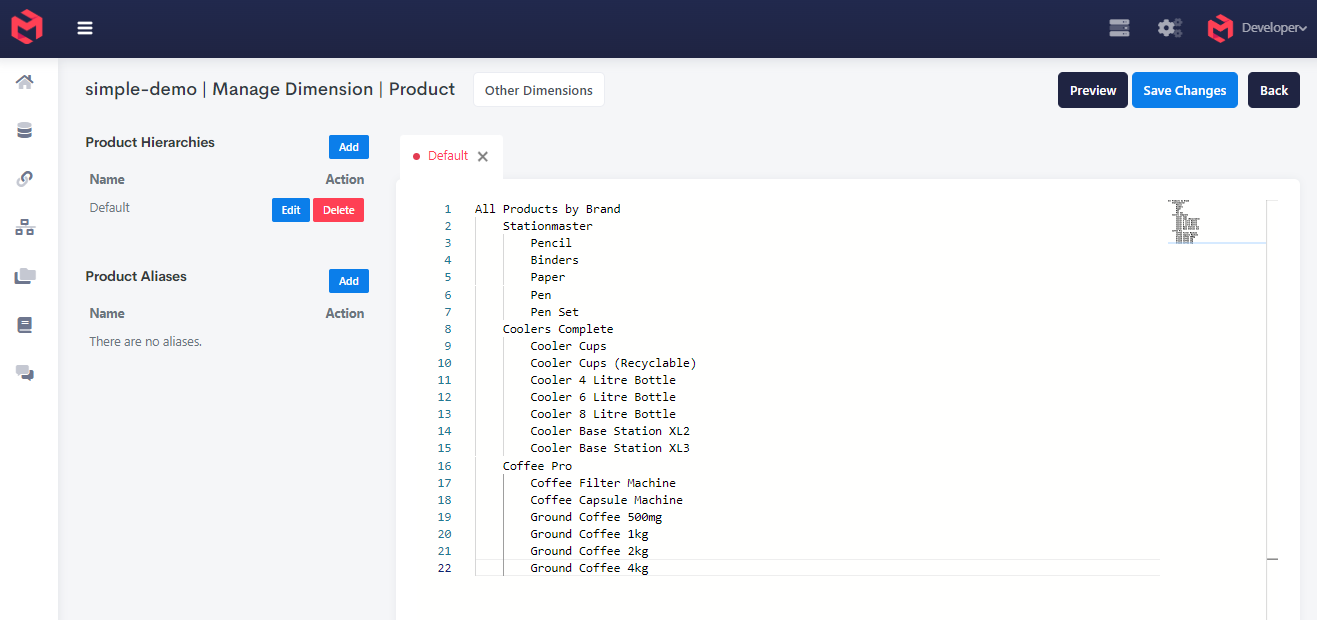 The All Products dimension will a simple list:
All Products




	Pencil




	Binders




	Paper




	Pen




	Pen Set




	Cooler Cups




	Cooler Cups (Recyclable)




	Cooler 4 Litre Bottle




	Cooler 6 Litre Bottle




	Cooler 8 Litre Bottle




	Cooler Base Station XL2




	Cooler Base Station XL3




	Coffee Filter Machine




	Coffee Capsule Machine




	Ground Coffee 500mg




	Ground Coffee 1kg




	Ground Coffee 2kg




	Ground Coffee 4kg
All Products




	Pencil




	Binders




	Paper




	Pen




	Pen Set




	Cooler Cups




	Cooler Cups (Recyclable)




	Cooler 4 Litre Bottle




	Cooler 6 Litre Bottle




	Cooler 8 Litre Bottle




	Cooler Base Station XL2




	Cooler Base Station XL3




	Coffee Filter Machine




	Coffee Capsule Machine




	Ground Coffee 500mg




	Ground Coffee 1kg




	Ground Coffee 2kg




	Ground Coffee 4kg